Amidst the dense green forests near Dapoli, resting in the cool shade of huge mango trees, on the banks of the serene Kodjai river lie the Panhalekaji caves – far away from the human civilization, thankfully neglected.The only acknowledgement of their existence comes in the form of a standard red – blue notice board of the Archaeological Survey of India. That is the only recognition the Government can afford to give our past.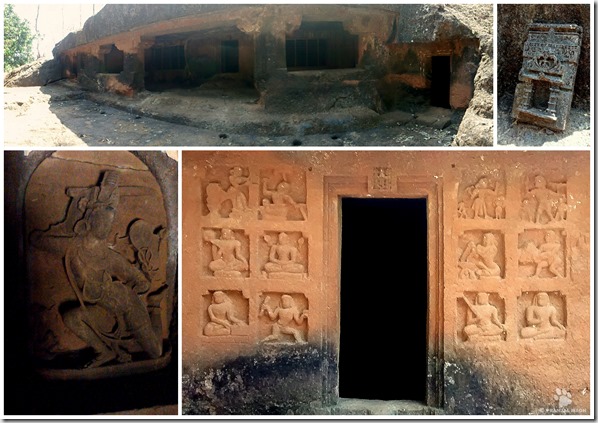 The Vihars or Rooms which once housed meditating Sadhus, Bhikshus or weary travellers now are home to a few idle bats who are too lazy to oblige your presence.The temples, idols and gods are carved straight out of stone. The anonymous hands that delivered the strokes and chiselled the rough stone into velvet smooth beautiful pieces of art are long gone. The owner of those hands will forever remain unknown to us. But their work has stood the test of time and will continue to fascinate us!
The stone doorkeepers, their faith solid as stone, still stand guard outside the Empty Sanctums once inhabited by their Masters. Maybe they have a wild hope that their Masters will one day return to their homes. Little do they know, that the Humans have forgotten them and their Gods. They have moved on to bigger and richer Temples. They have moved on to easily accessible Gods who are said to grant favours without much effort.
But the Forgotten Gods of Panhalekaji have realized this. And one by one, slowly but surely, they are returning back to Nature.
– Pranjal Wagh ©
#Konkan2015
#Panhalekaji
#ThePilgrim
This work by Pranjal A. Wagh is licensed under a Creative Commons Attribution-Noncommercial-No Derivative Works 2.5 India License.
This means that you must attribute the work in the manner specified by me in a proper manner – for example – a link back to the content which you used as the source (but not in any way that suggests that I endorse you or your use of the work).
This also means that you may not use this work for commercial purposes and you may not alter, transform, or build upon this work. Click the link above to read the full license.