(Ramayana – Shattered Dreams is Part 2 in Ramayana – The Game of Life Series)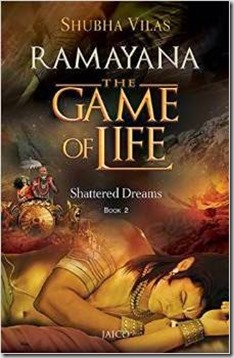 Ironically, the last Book Review I did for BlogAdda was for a fantastic book called "The Krishna Key" by Ashwin Sanghi. That I be chose for reviewing a book on the life of the 7th Avatar of Lord Vishnu, the Maryada Purushottam – Lord Ram – was nothing short of a miracle! I jumped at the opportunity being very deeply interested in Hindu Mythology and Ancient Indian History!Having not read the first book in the series, I was hesitant at first to start off with this book. But being an average Indian, I was well adept with the characters in Ramayana and their stories! Nowhere, did I stumble or miss not having read the first part of the series.
The story – Ramayana, one of India's two greatest Epics – is known to almost all the kids in India –thanks to our Grandparents and Uncle Pai (Amar Chitra Katha). There have been countless renditions of the Epic since times immemorial. In such a case, to come up with a unique piece of art is difficult – nay- it is next to impossible! But here is where the author, Shubha Vilas, succeeds quiet well!
The book starts off quite well with Dasaratha – the one whose chariot moves in ten directions at a time – is haunted by demons in his nightmare. Unknown fears make him restless. Soon he realizes he has become old and must declare the rightful heir to the Throne of Ayodhya. Obviously it must be everybody's favorite and the apple of Dasaratha's eye – Lord Rama! From here on, the familiar story starts with Manthara, the hunch-back maid, injects poison in Queen Keikeyi's mind about Rama and persuades her to ask Dasaratha to make her son Bharata, the King of Ayodhya and banish Rama to Dandakaranya forest for 14 years.
What is different in this book is (I realized this for the first time) that Keikeyi loved Rama as her own son Bharata. When Rama is announced as the successor to Dasaratha, she is actually very happy and believes truly that there is no one better that Ayodhya deserves. But the author has cleverly showed here how one rotten apple can spoil the entire lot! Manthara with her cunning wit and manipulative tongue, transforms Keikeyi and plunges the Kingdom into despair.
The author takes up a very different style of writing which makes this book very accessible to Youngsters. He analyses each situation in the epic and presents to us the gems of learning in the form of carefully drafted footnotes. The notes are very helpful in understanding the epic. In my personal opinion, I found them quite disturbing and I skipped over most of them while reading them. Although I made it a point to read through them once the book was done!
One more notable mention that I must make here is the inclusion of a small chapter on the Conquests of Ravana –the king of Lanka. The author has very cleverly started building character traits for his antagonist. This will help to create the personality of Ravana when the latter parts come out! Moreover, the characters in this book are extremely detailed. We all know, Rama, Lakshmana, Dasaratha and the likes but this novel specially highlights the relation between Rama and Sita, Rama and Saumitra. Giving significance to small characters puts in a lot of color in this book. One of my favorite moments in the book is when Dasaratha calls Rama to ask him to leave Ayodhya for 14 years. Just before he leaves to meet his father, Rama hands over his garland to Sita and they communicate only through eyes. The author explains the significance of these actions very beautifully.
It is this and many other moments that have made reading the novel very much enjoyable for me. I am sure this novel makes for a good repeat read too. Our Epics have the ability to spring surprise lessons for us every time we read them and I believe Ramayana – Shattered Dreams is not an exception!!
Definitely Recommended!
My Rating – 4/5
Cheers!
– Pranjal Wagh ©
This review is a part of the biggest <a href="http://blog.blogadda.com/2011/05/04/indian-bloggers-book-reviews" target="_blank"> Book Review Program </a> for <a href="http://www.blogadda.com" target="_blank">Indian Bloggers.</a> Participate now to get free books!