When I first walked into this temple complex in 2011, it was love at first sight!

Totally unknown to the tourists and away from the Mahabaleshwar hustle-bustle this place had only one thing to offer me – Inner Peace!

The Krishna-Mai temple – Named after the River Krishna which flows in the valley below – is a Shiva Temple with a massive Shiva Linga worshipped inside its Sanctum. Ironically due to its name, in 2011, someone had kept a small marble idol of Lord Krishna on top of the Linga. Early in 2012, the Archaeological Survey of India (ASI) stepped in, took charge and appointed a caretaker, Mangesh, who doubles up as a priest and keeps the temple complex clean and tidy. He also provides you good information about the temple. The Shiva Linga and other idols in the temple are worshipped each day with flowers now. The Lord Krishna idol has been shifted and the temple returned to its rightful occupant!

Now 4 years later the Temple is much cleaner – Thanks to the efforts of ASI! The water tank seen in the picture has been restored in a correct manner. The Go-Mukh (Cow's Mouth) sprouts a spring of the River Krishna's heavenly water – the taste of this water is out of this world! A hearty drink of this water is highly recommended!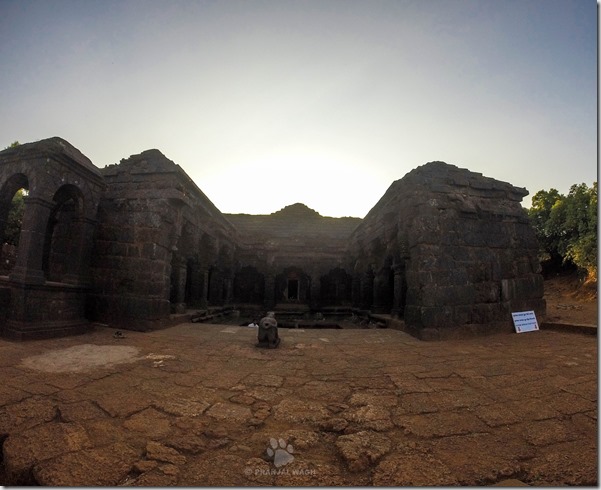 "I have submitted sketches of stone idols to be replaced to ASI. As soon as we get funding, work will begin to restore the temple idols and carvings. Chemical work of the temple roof to avoid leakages and weed growth will also be done soon", says an optimistic Mangesh who was eyeing me curiously when I took this photograph with a GoPro. I am very happy that Oil paint and cement have been kept away from this temple. For that I will credit the ASI!

4 years later, this is still one of the few places in the world where I can find what my soul searches desperately for – Inner Peace!!
– Pranjal Wagh ©
09 April 2015
#KrishnaMaiTemple
#Mahabaleshwar
#TheNomad
#भटक्या

This work by Pranjal A. Wagh is licensed under a Creative Commons Attribution-Noncommercial-No Derivative Works 2.5 India License.
This means that you must attribute the work in the manner specified by me in a proper manner – for example – a link back to the content which you used as the source (but not in any way that suggests that I endorse you or your use of the work).
This also means that you may not use this work for commercial purposes and you may not alter, transform, or build upon this work. Click the link above to read the full license.