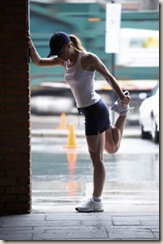 Run!!
Did you just have an argument with your family?
Does your friend not listen to you?
Had a disagreement with your *ahem* ?
Your teacher pissed you off?
Feel you should have bashed up that chirkut on the train?
Then Run!!
Believe me the one of the most effective ways of facing your problems is running..not from them…but running to throw out your frustrations so that you are better equipped to tackle them!
Run! Get that lazy ass out of that chair!
Move those legs, let some blood pump into those muscles! Your muscles are dying a slow and painful when you just sit in front of that monitor and succumbing to your addictions of facebooking and orkutting! Limited blood flow and lack of movement will sap them of their vitality and make them grow old faster!
Get up and run!
At first, you will feel like giving up. But persevere, keep running.
Your breath will start coming in gasps! Never mind, continue.
You heart will be pounding against your ribcage crying to you to stop this torture. Don't listen to your heart.
Your lungs will be burning and legs will start getting heavier and heavier. Keep moving.
For this one time, listen to your mind for it will be your closest ally and your heart, your best enemy!
Best because although it begs you to stop, it still keeps on pumping, doesn't it?
Torture your body. Break your own spirit. Into tiny tiny pieces.
Push your body to the limits of exhaustion. Make your mind weep. Make yourself feel that you might kiss the tarmac any second now.
But then a miracle will happen. Your mind does not let you fall. It keeps you on your feet – literally!
New energy and power-you never knew you had- flows through your body!
You do not feel tired anymore! Your body and mind are in rhythm now – in tune with each other.
Your heart stops complaining. It cannot fight you so it joins you!
You now feel you can keep running for a very long time!
And by the time you realise, your frustrations have just disappeaered. You appear much calmer, composed and you emerge much fitter both physically and mentally.
So that you are ready to once again accept all the trashy frustrations in the world!
Ready to stand up to the world and face it like a man!
So the next time you meet any chirkut on the train you'll not only give him a piece of your mind but a taste of your knuckles too!
I love running.
Running liberates me! It has infinite health benefits! But the best is it offers you the opportunity to watch 'people' run (closely) in 'too short' shorts which you wouldn't have got the chance to do normally 😉
Ciao Meow!
Pranjal Wagh

This work by Pranjal A. Wagh is licensed under a Creative Commons Attribution-Noncommercial-No Derivative Works 2.5 India License